HDTA Jr. Tennis Team vs. Marcos Tennis Academy
May 7, 2005
The High Desert Tennis Association Jr. Tennis Team enjoyed their first tennis exchange with the Marcos Tennis Academy in Fontana. Five students participated in the exchange: Briana Wood, Lynn O'Connor, Brooke Ferslov-Jensen, Trevor Popham and Brendon Russell. Three rounds of tennis were played. No wins in the first round, Several wins in the 2nd and 3rd rounds.
The exchange ended with a pizza party for all. The Marcos Academy students will visit us for an exchange sometime in June.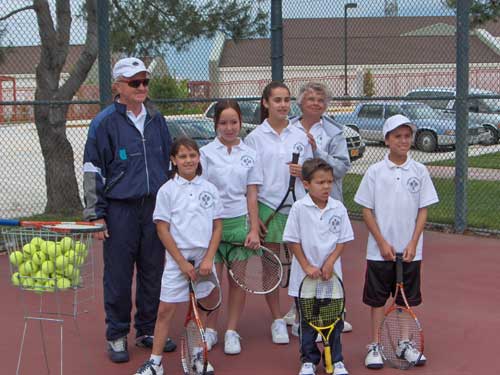 HDTA's Pat Whitmarsh and Lela Atkins with
the kids from the Tennis in the Park program,
at the Marcos Tennis Academy in Fontana.