Kishan Wicks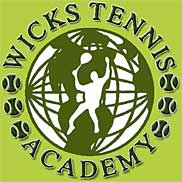 Tennis for today — "Feel the difference"
At Wicks Tennis Academy we strive to be informed of what is successful in today's tennis environment. We have designed our program to achieve high sucess rates with juniors and adult players. We consistently study the biomechanics and technical advances that are taking place in the game today, including the physical aspects (plyometrics and core training), the nutritional aspects (Zone foods), and the mental game (Yoga, motivational techniques, and goal setting).
By focusing on all of the above, we have developed the content and structure of our programs for all ages and different skill levels. We have beginning, intermediate, and star programs.
Currently we are based out of Silver Lakes Tennis Club in Helendale, California — 20 minutes from the city of Victorville.
The international players we are training include:
Emmanual Mensah, Ghana. Davis Cup team and #1 Junior College player in Southern California
Gabor Toth, Hungary. #10-ranked player from Hungary
Amal Ben El Hadj, Tunisia. Fed Cup team member 2009
Kishan Wicks
Tennis professional
wickstennis@yahoo.com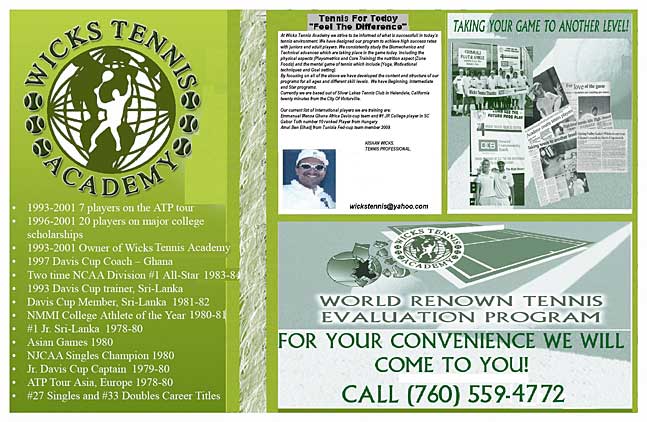 1993-2001 Seven players on the ATP tour
1996-2001 20 players on major college scholarships
1993-2001 Owner of Wicks Tennis Academy
1997 Davis Cup coach — Ghana
1983-1984 Two-time NCAA Division 1 All-Star
1993 Davis Cup trainer, Sri Lanka
1981-1982 Davis Cup member, Sri Lanka
1980-1981 NMMI College Athlete of the Year
1980 Asian Games
1980 NJCAA Singles Champion
1979-1980 Junior Davis Cup captain
1978-1980 ATP Tour, Asia and Europe
1978-1980 #1 Junior, Sri Lanka
27 Singles and 33 doubles career titles